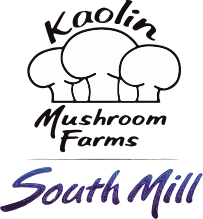 It's Friday here in sunny South Florida! EasyClocking has just made it through another formal business week. With each week that passes by, EasyClocking finds new, interesting customers that find our Time & Attendance software useful, such as Kaolin Mushroom Farms, the third largest mushroom producer in the United States.
"The company continued to grow through acquisitions and expansions, and today it is the largest mushroom producer in Chester County and the 4th largest in the US. Kaolin has 800 full-time employees, of which approximately 80% originate from Mexico.
It operates three mushroom farms, a state-of-the-art composting facility, and other related operations, and sells over 1 million pounds of mushrooms every week, primarily throughout the eastern half of the US, to various retail, wholesale, foodservice and process customers.
Kaolin has distribution centers in Dallas, Houston, Atlanta, Chicago, and New Orleans. These facilities give the company a local presence in those markets and allow it to effectively compete with growers who are much closer to those areas."
We had the chance to discuss some of the previous requirements and needs that EasyClocking met with another detailed yet successful implementation of our Time and Attendance system. Keep reading to see what Aaron the Technical Trainer had to say about his experience with the EasyClocking system:
Victor (EasyClocking Brand Communications):
Aaron, how has our time and attendance system affected you and made your job easier?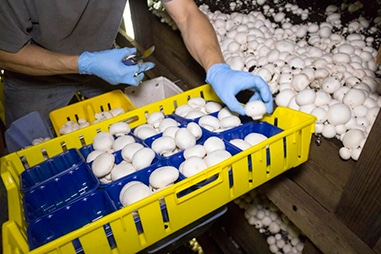 Aaron (Technical Training, Kaolin Mushroom Farms):
Through a series of integration meetings, we were able to sit down describe our company's day to day workflow, as well as our needs. Your team then helped incorporate our needs into your version updates, and OVERALL we are very happy with the way the system is working. It's actually created enough of an influence on our workflow for payroll that we have recently been able to free up positions so that people who were doing other types of payroll with our other system now have some free time they can dedicate to other areas. So it's definitely helping us in that regard.
So it's helping your productivity? You would say?
Yeah, so the productivity and management of individuals has increased quite significantly, because we have more control over the individuals on an hourly basis. With training we've been provided and the training that we've provided to our staff, like I just said we've pretty much eliminated a full position in payroll and freed that person up to do some other things, which was really nice to see. Also, because we are in the mushroom industry and some of our harvesting personnel are very transient and have a lot of turnover, the ability to run reports on who was here, when they were here, and the who was in feature work well, and we've also designated certain high-level individuals within each department as different departments, so when we get our notification for time off or so forth it doesn't have to go to everybody in the department now that we have designated who will be approving it. So, I guess you can say we have basically worked with this system and been able to make the solution work for our way of doing things, and overall we are very happy with it. Once in a while if a clock goes down (network cable), we just go and get it back online and now that we have finished our transition from our old system, everything seems to be going very well for us.
Oh, okay I'm glad to hear that, Aaron. In terms of your previous system, what were you using previously and what made you seek a better time and attendance solution?
Before, we were using an application that we had produced here within our company. You know, pretty much just a scheduling application so that payroll can monitor which people are working their scheduled period of time. For the hourly employees, we did the traditional time card punching with paper, and then we'd have to grab all that paper together and we would create spreadsheets that would allow us to manage that time and submit it to payroll. The ability to look at something as a web interface anywhere you want, anywhere in the world, as long as you can log on is very helpful to people. Now we've gone from old school paper clocks to fingerprint capture technology, and that also has been working very well. There are instances where a couple of our staff members have a difficult time with it. Due to the nature of our work, some people have really rough or difficult fingerprints to capture, but for those individuals, we've provided a code to use in the event the fingerprint doesn't work. That way, they can still log in and their time is captured. We also use individuals who are hourly and allow them to use PC's to clock in and out.
Can you tell us a little about your organization as a whole?
Sure, we are a distribution, and so we distribute, pack, repack and transport produce. Our company itself, Kaolin Mushroom Farms, is part of the larger Southland Mushroom sales, which does all sorts of packaging and repackaging. Like I said, we do certain types of produce with the Kale and Mushrooms farm, this company's private mushroom company, which is the 4th largest in the country. We provide mushrooms all throughout the country. It's a huge endeavor between coordinating all the people who are active and making it as smooth of an operation as possible
So our system definitely aids in your organizational process, you would say?
Oh Yeah, it definitely aids. It gives us the ability to manage, especially at higher levels. It gives more accountability and makes transitions so much faster when walking from the breakroom or walking to the breakroom and punching in with paper time cards. With this system, they get immediate recognition of whether or not what they did was valid, and they have been shown to wait or move to the next clock, but in general, yes it's been very helpful as far as productivity, because it's allowed the managers to eliminate the time it took to do all the number crunching on paper. Instead, they can easily click and edit right here on the screen.
Aaron, what is your position at Kaolin, if you don't mind me asking?
I am their technical trainer. So, whenever we have things like EasyClocking and software and things like that…
Laughs** I see, so you get the pleasure of learning all the new technology and integrating all the new things that Kaolin rolls out.
So you could call yourself an implementation manager of some sort?
Kind of! I work hand in hand with John Pia Jr., who is the IT manager. He does all the implementation with scheduling, and it's up to me to learn the product and gather the information and run the trainings for everybody.
How long have you been with Kaolin?
I've been with them for 4 years but I've only been in this position since May of 2015.
That's great. That's good to hear. So, Victor do you have any more questions for Aaron.
I was going to ask before we wrap up, is there a particularly us in our system for the hourly employees that you rely on the most?
Yeah. I would say, since our work staff is nearly 1000 people, and at least 850 of them are hourly, this has created quite a management, it has gotten much more easy to manage these individuals, because we have this easyclocking setup now. The fact is, now we can reach back and grab reports, the ability to let individuals who say they weren't here know they were here and that we have their fingerprint and have captured their time.
How much money do you think you've saved implementing this system?
Oh GOODNESS! To get the most accurate number, you would have to speak to John about that (IT Manager). But, I remember when we first started we saved enough personnel time to allow the elimination of an entire position from our payroll.
Yeah, so that's definitely enough to say that over the course of a year the system would end up paying for itself?
I would say so. Yes… Because the transparency of looking at and managing everything, and how granular you can get to restricting individuals access and all that stuff is very, very beneficial for us. Like I said, we had to work for many implementation meetings to get it to work our way. Management really enjoys the fact that they can manage their staff without having to hinder their time.
I think we got just enough questions answered, and I don't want to take up too much more of your time. We really, really appreciate you taking the time with us today and answering our questions. I think Victor had one more questions to ask…
Would you recommend us to other companies based on your experience?
Oh yeah definitely! Matter of fact we even want to upgrade to the new clock you guys have coming out, the Xenio. However, we just completed our integration, and in order for us to upgrade, being that you guys have updated your fingerprint technology even more, we would have to re-enroll our employees. We would have to start from step 1 again. We would gain a bunch of options but would have to recapture 800 fingerprints.
Yeah regaining the fingerprints is definitely the biggest pain in the integration process! I wouldn't want to redo that process. But the Xenio is definitely a much better system with the upgrade to the firmware and OS.
Yeah, well everything seems to be working just fine. The managers are handling the system really well, moving from hourly to salary positions, and moving from biweekly to weekly pay periods is easy, I mean things went from many calls a day to a couple calls a week from our staff asking questions about easyclocking. So, we know everything is working and things seem to be stable enough. Unless a clock goes down or unless we have a special case when an hourly employee stays more than a night or two to mess up his schedule, unless it's one of those two cases, our IT team doesn't get any complaints or calls about the system. Everyone is pretty happy with it.
Well Aaron, I had a pleasure speaking with you! Thank you once again.
Okay thanks guys! Great speaking with you! Bye!